Our sales colleagues are pleased to present the services and collection of buildings of the Zsolnay Cultural Quarter for the partners interested.

Contact details: ertekesites@zsn.hu
Venues available for lease:


E78 – CONCERT HALL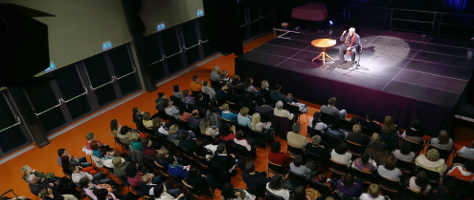 With a direct view of the Pyrogranite yard, the building offers a perfect venue for concerts, theatre performance, business and family events, weddings, balls and performances of various genres.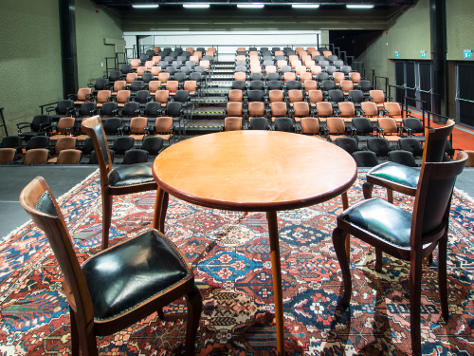 Floor area: 460 m2
Capacity, with rows of chairs: 400 persons
Capacity, theatre: 200 persons
Capacity, in case of round-table arrangement: 220 persons
Capacity, standing (without chairs): 1,000 persons
Downloadable technical specifications.


---
E78 – CLASSROOM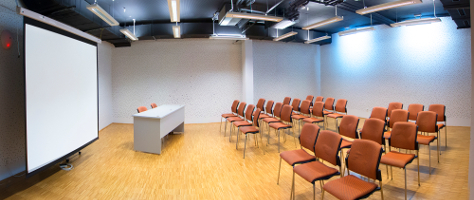 The Classroom found on the first floor of E78 building meets the requirements of business meetings presentations, while it can function as a session room for major events.
Floor area: 73 m2
Capacity, with rows of chairs arrangement: 35 persons
Capacity, in case of U-shape arrangement: 20 persons


---
E78 – PANORAMA HALL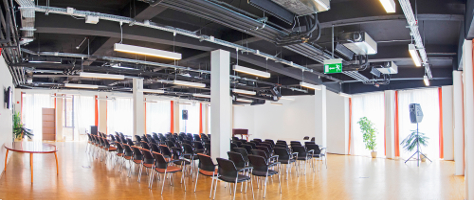 Panorama Hall, true to its name, offers magnificent views of the adjoining Pyrogranite yard and the "Flashy Chimney" towering there. It is an ideal venue for various events.
Floor area: 223 m2
Capacity, with rows of chairs: 110 persons
Capacity, round-table arrangement: 70 persons


---
E78 –MUSIC HALL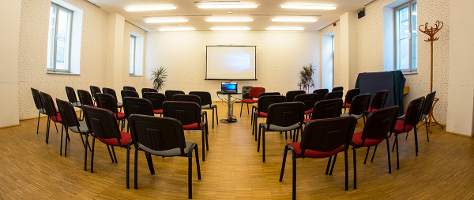 The Music hall is found on the ground floor of the building E78, and is suitable for larger presentations, business meetings and events.

Floor area: 83 m2
Capacity, with rows of chairs: 50 persons


---
PYROGRANITE YARD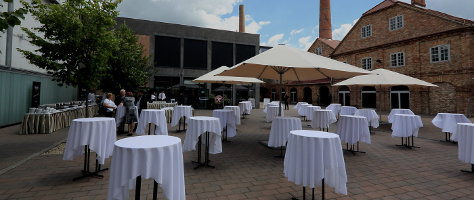 The yard, bordered by the renovated walls of the former factory buildings and by E78 Concert Hall courtyard include the highly ornamental Flashy Chimney, too. The furnaces once used for burning the ceramic objects are also found here, and today they are home to temporary exhibitions in the so called Shop-window gallery.
The courtyard is a perfect choice for concerts, dinners, and other large-scale outdoor events.

Floor area: 1877 m2
Capacity, with rows of chairs: 660 persons
Capacity, standing (without chairs): 2000 persons


---
APOSTLE HALL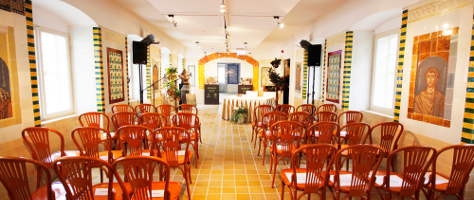 The walls of the room are decorated with angels and apostles made of terracotta, iron and manganese oxide paint. In the "German Room" in six large sections groups of tiles of different characters can be seen from the early 1900s: blue and white, faulty, remaining tiles in blue-tiled frames. Due to its special decoration and ornaments, the hall is a popular venues for award ceremonies, celebrations and weddings.

Floor area: 143 m2
Capacity with rows of chairs arrangement: 95 persons
Capacity, round-table arrangement: 60 persons
---
JÚLIA ROOM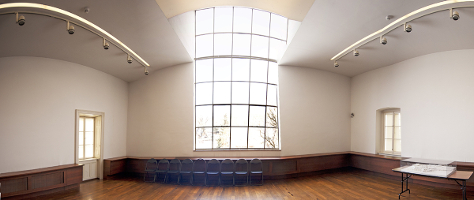 Júlia room is found on the first floor of the Sikorski House, above The Golden Age of Zsolnay exhibition – or else the Gyugyi Collection. Vilmos Zsolnay's daughter, Julia, married Tádé Sikorski architect in 1883, and this building became their home. In 1886, Julia's studio was developed here, and this is where she created her paintings. The light room offers a beautiful panoramic view to visitors.

Floor area: 80 m2
Capacity with rows of chairs arrangement: 40 persons


---
PÉCS GALLERY M21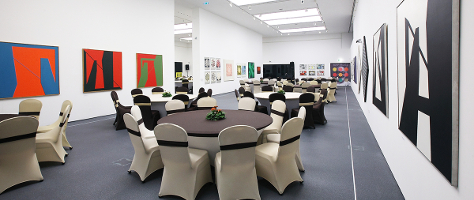 With its more than a thousand square meters of floor area, this is one of the largest exhibition centres of Pécs. The building with 6-8-meter-hig ceilings at some places is perfect for gala dinners, or as a complementary venue of conferences.

Floor area: 1,152 m2
Capacity in case of round-table arrangement: 400 persons
Capacity for (standing) receptions: 685 persons


---
BÓBITA PUPPET THEATRE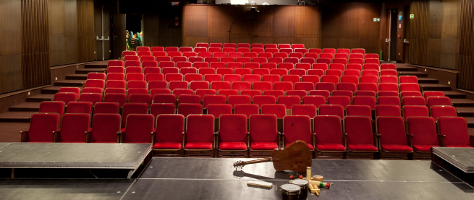 The "green house" was designed by Andor Pilch and Tádé Sikorski, intended to be used as a summer resident and studio by the adult children of the Mattyasovszky family, but finally, not even a single member of the family moved here. Today, the building is the home of Bóbita Puppet Theatre.

Capacity of the grand hall: 185 persons
Capacity of the chamber hall: 70 persons

Our additional venues: